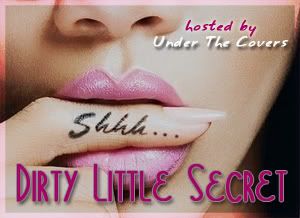 Dirty Little Secret
is a weekly meme hosted by us at Under the Covers. Every Thursday we get to know other bloggers and our readers more intimately by asking them a question hoping to reveal their dirty little secrets. We hope that you will all join us!
To participate in the meme all you need to do is:
1. Be a follower of Under the Covers.
2. Create a post in your blog taking the meme image (code above) and copy instructions.
3. Answer the question we propose! This can be done in any way you like, post a video, write a post etc.
4. Then add your link below.
Non-bloggers: We want to hear from you as well!!! Let us know your answer in the comments!
We hope you join us and let us know your
Dirty Little Secrets!
This week's question:
Who is your favorite flawed hero and/or heroine and why do you still love them despite their faults?
HeatherJay's answer:
I didn't even have to think on this one. Easily, my favorite flawed character male or female is Cesaria Putnam from the Downside Ghosts series by Stacia Kane. Before I started reading this series I always loved my heroines to be strong, funny, self-effacing and generally having their shit together. I've spent enough of my life around dysfunctional women so I definately did not want the women in my books to have ridiculous issues that any relatively stable adult should have a handle on. When I read the first book of this series I was incredibly annoyed by Chess for being a drug-addicted weakling who forced those around her to deal with whatever fucked up issue du jour she was dealing with. Slowly, she grew on me and after realizing what she had been through in her life I said "Whatever you need to do to get you through the day, Sweetheart, have at it". I eventually came to know her as a strong, loyal, generous, intelligent woman who happens to have a relatively strong case of self-hatred going on....Also, she's a hardcore drug addict. Regardless of the flaws, her positives strongly outweigh the negatives and she's got a Bettie Page haircut w/tattoos so she f-ing rocks!
There are a lot of flawed characters that I love no matter what! I think thats what draws you to them in the first place. Their faults and all....who doesnt love a project riight??That being said.... I would have to go with Vishous from BDB. He's depraved and he's a complete

ass whole

some times and an insufferable no-it-all, but he's sexy as hell....just utterly
Delicious
, intelligent and loyal to a fault! So...yea, I pick him! Control freak with a room full of toys...Yes Please;)
Whats ur Dirty Little Secret.....