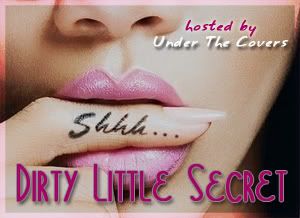 Dirty Little Secret is a weekly meme hosted by us at Under the Covers. Every Thursday we get to know other bloggers and our readers more intimately by asking them a question hoping to reveal their dirty little secrets. We hope that you will all join us!

To participate in the meme all you need to do is:

1. Be a follower of Under the Covers.
2. Create a post in your blog taking the meme image (code above) and copy instructions.
3. Answer the question we propose! This can be done in any way you like, post a video, write a post etc.
4. Then add your link below.

Non-bloggers: We want to hear from you as well!!! Let us know your answer in the comments!

We hope you join us and let us know your Dirty Little Secrets!
"Who is your author crush? And if you were to write a fan letter to them, what would you say?"
My Author Crush would have to be Eve Langlais! And the letter would go as follows:
Dear Eve,
I love you! Your heroines are fierce and awesome. Your Alphas are always scorching and your knack for writing menages are amazing! You are the shit! You have this amazing

ability

to write a novella and make me fall in love with the characters and have to take a cold shower afterwards...THANK YOU!! I could read your books all damn day...THE END!!
Love,
Tynisha:)