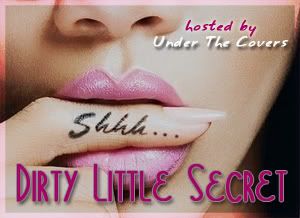 Dirty Little Secret
is a weekly meme hosted by
Under The Covers
. Every Thursday we get to know other bloggers and our readers more intimately by asking them a question hoping to reveal their dirty little secrets. We hope that you will all join us!
This weeks question:
If you could read one book again for the first time,
which one would you pick and why?
Okay, this may rub some people the wrong way but I gotta be honest.
I would pick Twilight!
I was in a phase in my life where I had not read a book in over a year. ( I know, it was awful). I could not get into any book I bought and I had begun to think that my reading life was over. I had never read Paranormal, UF, Dystopian or anything other than your standard romance, mystery or thriller. I saw a display at Barnes and Noble for Breaking Dawn (which was releasing in 3 weeks), and I thought I would give this new genre a try, to try and spark something...anything that would bring back my life-long love of books. Fast forward one week and I had devoured the first three books and my passion for reading was re-awakened. I was beyond happy and started to read all these genres that I had never read before and I can say that it truly brought back a joy to my life that I thought was gone forever. I'm not sure if any other book would have done the same but Twilight was the right fit at the right time and my memory of that first read will always hold a special place in my heart.
VanesMate's Answer:
Thats a great answer Heather....I would love to read Twilight for the first time! Get that feeling back. But I would have to choose Halfway to the Grave by Jeaniene Frost! I remember seeing that book at Borders(when it was still around) thinking...hmmm that looks pretty interesting! I hadn't read in a LONG time. I used to read regularly in the beginning of High School but after like sophomore year I was too busy partying. Actually...Harry Potter was the first series I picked up in years, then Twilight! Thats a big assed gap(since Im 30)! But reading Halfway to the Grave is what sealed the deal for me as far as Paranormal Romance! It was sexy and funny and I just adored me some Bones! So...yea! Reading that book for the first time would be awesome! And of course Dark Hunter series...I know after I first read Fantasy Lover I zoomed through that series like the plague!