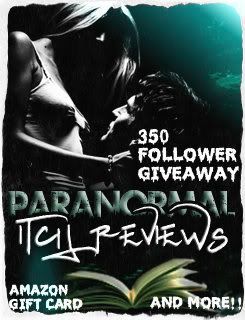 We've got our 4th Winner!!!!!!!
Keep entering to win the GRAND PRIZE!!!
250 followers: Deadlocked by Charlaine Harris- The latest installment in the Sookie Stackhouse saga-
WINNER- Miss Vain's Paranormal Fantasy
275 followers: Tricksters T-Shirt - Fans of Stacia Kane's Downside Ghosts series will appreciate this one.
WINNER: Miranda Wood
300 followers: City of Lost Souls by Cassandra Clare- The next installment in The Mortal Instrument Series
WINNER: Leigh Savage

325 followers: "My other boyfriend is Terrible" or "Chucks, the cleanest bathroom in town" T-Shirt from..............Yep, Downside Ghosts series.
WINNER: Kelli Reci

350 Followers: Grand Prize - $25 Amazon Gift Card
Enter below and Good Luck!..........